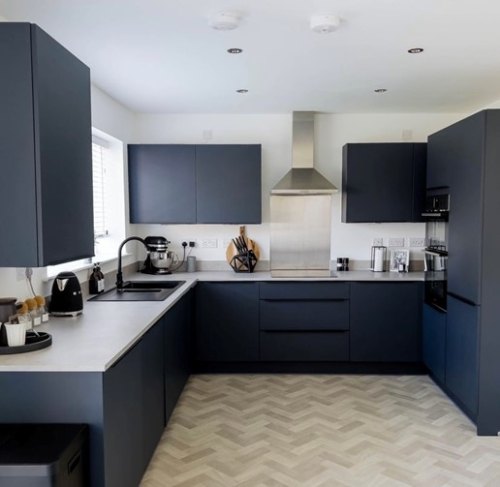 Symphony Urban kitchen in Indigo – Photo and Design by @plot56.theleeway
Kitchen cabinets are one of the most important features of any kitchen. They not only provide ample storage but also serve as a design element that can set the tone for the entire space. While traditional wood finishes and neutral paint colours have long been a popular choice, more and more homeowners are opting for bold coloured cabinets to add a pop of personality to their kitchen.
One colour that has been gaining popularity in recent years is blue. First and foremost, blue is a calming and soothing colour that can bring a sense of serenity to your kitchen. Whether you opt for a traditional or ultra-modern scheme, blue cabinets can help create a peaceful and inviting space that is perfect for cooking and entertaining.
In this blog post, our designer Josie Medved will take a closer look at the many ways you can style blue kitchen cabinets and address some of the most frequently asked questions for this hot topic.
How to choose the right shade of blue for you
The first thing to consider is the shade of blue that you want to use. Darker blues, like navy or indigo, can make a bold statement, but they can also make a room feel smaller. Lighter blues, like sky blue or baby blue, can create a sense of openness and airiness. You can also consider using a combination of blue shades for a more dynamic look.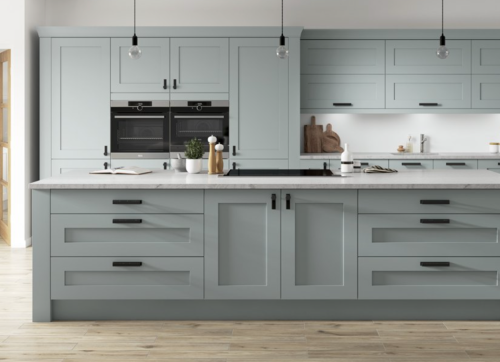 Symphony Princeton kitchen in Providence Blue
What colours go well with a blue kitchen?
One of the great things about blue is that it can be complemented by most colours. However, different colours will create different effects, so it is dependent on your style.  For instance, in a contemporary space, go for a sleek handleless design in a deep indigo shade and pair it with white, grey and black tones.  In a more traditional space, go for a shaker style cabinet in a more muted blue such as Symphony's Providence Blue and keep the surrounding design light and fresh, complemented by pretty pinks, yellows or warm toned neutrals.
How do you make a blue kitchen look brighter and warmer?
You might have reservations about introducing blue cabinets to avoid the room to feeling cold and uninviting. However, there are many ways in which to style blue cabinets to create a bright and fresh space.
Lighting is key and will affect the blue colour in your kitchen looks. Choosing a warm bulb will completely transform the space. You could even install plinth, under cabinet or recessed lighting to create a warm glow without any visible fixtures.
Wooden accents are a great way to make your blue kitchen look warmer. You don't have to be blessed with natural wooden beams and vaulted wooden ceilings – some simple wooden shelves and a display of wooden chopping boards will create the desired effect.
Introduce a two-tone design and limit the blue to the base cabinets, where their position below eye level will stop the colour feeling overwhelming. Complement with light worktops and upper cabinets to brighten the space and create a clear colour contrast.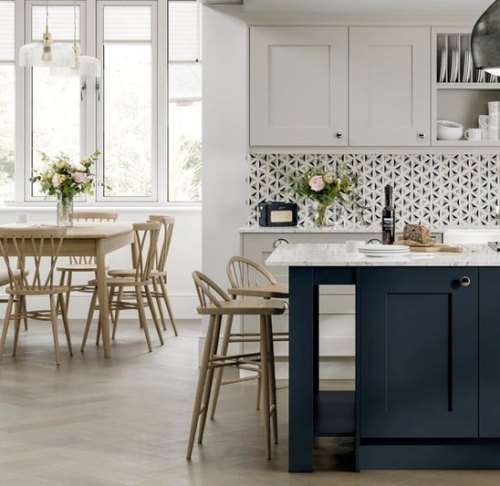 Symphony Princeton range in Indigo and Chalk
How to introduce blue in both small and large kitchens?
If you have a small kitchen, you might want to opt for a two-tone design to help open the space and create an airy feel.  Alternatively, if you have a large kitchen with plenty of natural light, you might be able to get away with a darker shade of blue, which can create a dramatic and sophisticated look.
What colour hardware looks good with blue cabinets?
Whether you prefer chrome, brass or matte black, blue cabinets can work well with a range of metal finishes to create a look that is uniquely your own. Pairing metallic brass hardware with a blue kitchen is a great way to add warm contrast due to its light reflecting properties. In ultra-modern schemes, matte black is a great option for taps, handles and other fittings. While blue and black aren't a combination you often see, it can create a chic and expensive feel. Many even mix and match with black and brass to soften the overall look.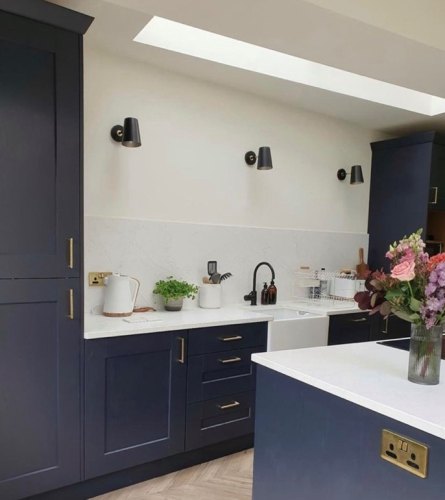 Symphony Ashbourne in Indigo – Photo and Design by @theodores.house
Blue cabinets are a versatile and stylish choice for any kitchen and it is no surprise blue is our bestselling kitchen cabinet colour of late.
Feeling inspired? Please speak to your nearest retailer to discuss your kitchen renovation plans via our dealer locator